I'm a little late in writing this one, but it's something worth talking about. Boston and Philadelphia, two cities tied to our nation's history. Both carrying the fabric of our nation's birth. So when the Red Sox came to play over there, it was an incredible opportunity to take in one of our nation's oldest an greatest cities.
You hear a lot about how nasty Philadelphia fans are, but I'm here to tell you don't read everything you see about them. I found the fans to be a lot like Red Sox fans, a poke here, a jab there, nothing nasty. They're very passionate about their team, just like Red Sox fans are about theirs. Both cities carry amazing fanbases and honestly, it's about damn time someone wrote something good about the Philadelphia fan base.
Throughout the entire game, there was nothing but respect for each other's teams. Even going as far as both sides saying things along the lines of "I wish that guy played for us.".
It was a treat to take in my first National League game. Seeing a pitcher like Cole Hamels go head to head against Jon Lester made it an even bigger treat. Both pitchers lived up to their billing. I even had some Phillies fans ask me "That Lester guy is good, is he the ace?". You have to acknowledge that kind of respect.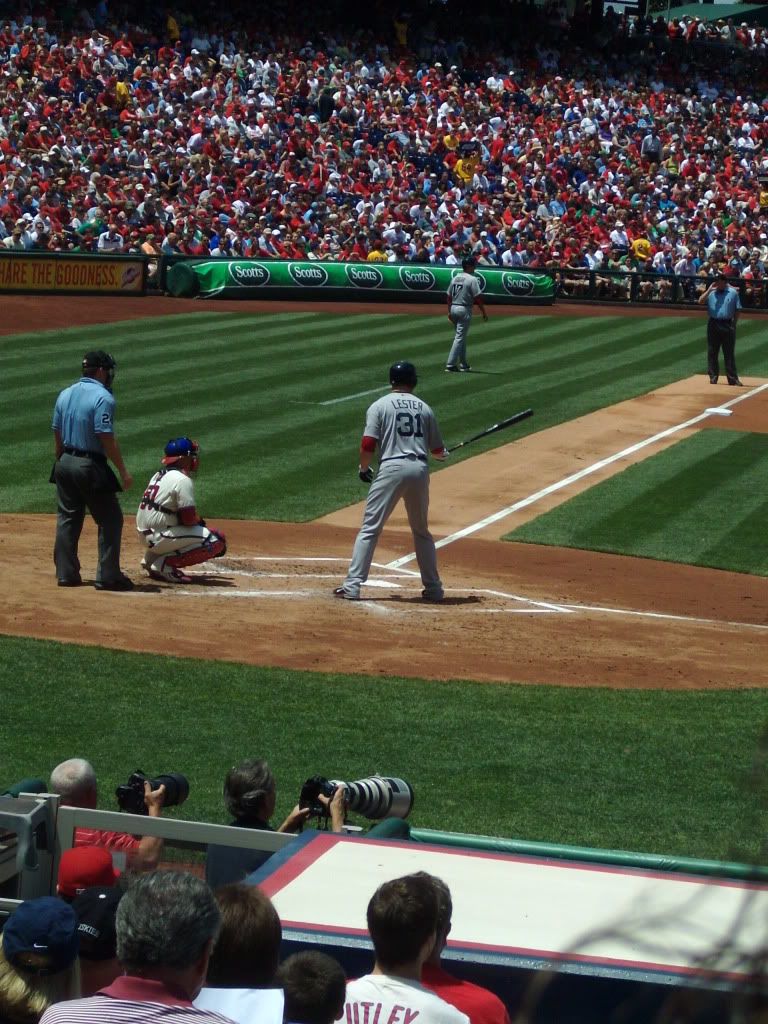 WCitizens Bank Park is honestly one of the nicest parks I've ever visited. The layout is gorgeous. I had to take some time to admire the park's beauty and let it sink in. The scoreboard in left field was awesome. With it's HD display and keeping track of the box score and lineups for both teams, even if that team wasn't at bat.
Of course, what trip to a Phillies game wouldn't be the same without a sighting from the Phanatic.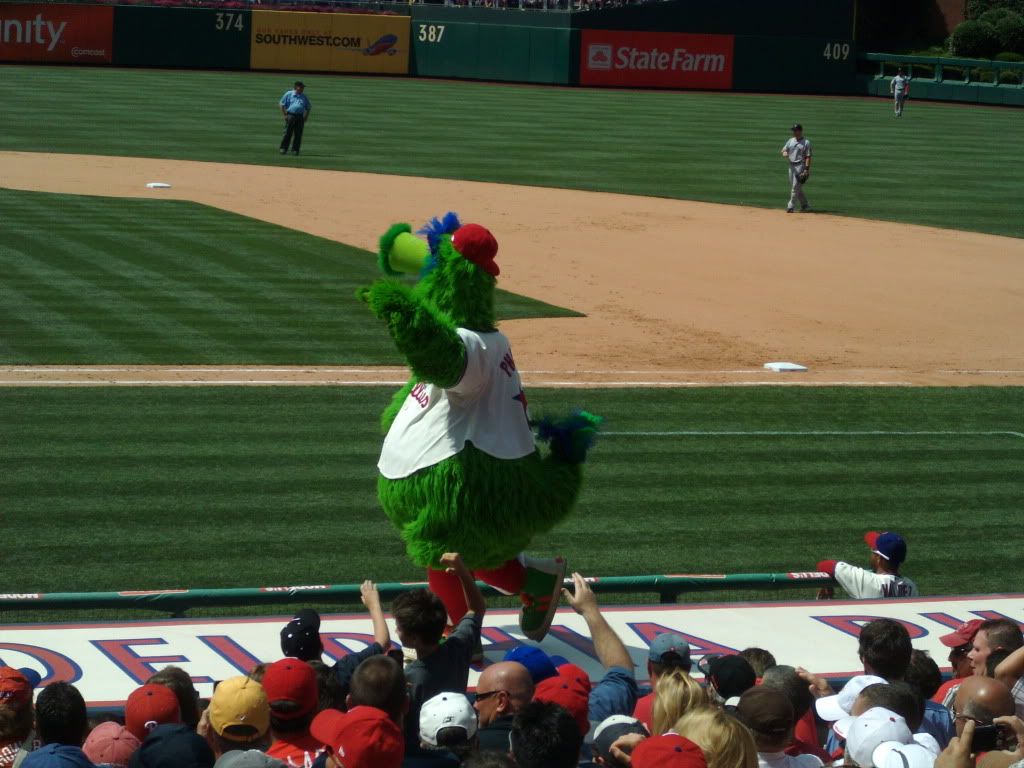 Honestly one of my favorite mascots in all of sports, cheering on his team and getting the fans into it. We have Wally the Green Monster, who is also a lovable mascot. I was honestly bummed when Wally couldn't make the trip. It would have been a greater treat to see Wally and The Phanatic go at it for the fans.
The moment that struck me the most about how well Sox fans travel was when Jason Varitek hit his second home run of the game. When you see a good portion of fans stand up cheering on the captain, you know you have a great fan base.
After the game, people were still talking to each other from both sides. Still talking about how much respect and admiration to the other team. After all, it is just a game.
While walking back to our destination, my friend(who's a Phillies fan) had pointed out to me a father and son who had attended the game and were jubilant in the win.
They had traveled all the way from New Hampshire to see the Sox. They too, were laughing and joking with Phillies fans during the game and even told us that they would visit again when the Sox come back. They loved the atmosphere of Philadelphia and their fans.
It's nice to share a friendly rivalry with a fan base as passionate about their team as we are about ours. I tip my cap to you Philadelphia, you may have won the series, but you also made some lasting impressions with our great fan base as well. I hope these great games continue with the passion and respect that we have for one another. Hopefully we'll see you in October.